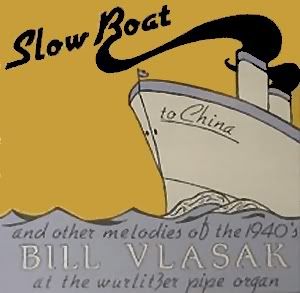 I'd love to get you
On a slow boat to China,
All to myself alone.
Get you to keep you in my arms evermore,
Leave all your lovers
Weeping on the faraway shore.
I love all of the things happening lyrically here. In 1945, when Frank Loesser wrote this song, there weren't many trips you could take that would be longer than the crossing to Asia, so a slow boat to China would be an eternity. The singer suggests that, on such a long and romantic trip, surely s/he'll be successful at "melting your heart of stone." Sprinkle in the jealous suitors, out of breath and shaking their fists as the ship leaves port, and you've got yourself quite a drama in just a few lines.
Frank "Guys and Dolls" Loesser loved bringing the vernacular into his music. In her 1993 biography of her father, Susan Loesser explains that experienced poker players used the phrase "I'd like to get you on a slow boat to China" when their opponents were both low in skill and high on cash. She writes, "My father turned it into a romantic song, placing the title in the mainstream of catch-phrases in 1947."
While everyone from Bette Midler to Jimmy Buffett has recorded this one, I prefer the old-time Benny Goodman / Al Hendrickson version. (Sorry, Ms. M.)
Listen here for a YouTube clip
of a Kay Kyser recording.